I missed pantomime season around Christmas, but I did manage to squeeze in one panto during my year in England, even if it was a little less traditional.  Directed by theatre master Teo, a group of Camphill residents and coworkers had been working hard on Robin Hood since January.  Six months may seem like a long practice time, but not when you consider that with only one day a week or practice, the residents themselves had a hand in creating the script, choosing the costumes, and picking the songs (including YMCA performed by the Merry Men).  All that commitment culminated in two nights only at our Chrysalis Theatre.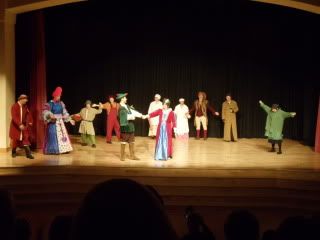 The base of the play was the traditional Robin Hood panto, but from the start, there were distinctive Camphill twists.  Residents dressed as bakers offered bread and jam from our bakery and food processing, a few in overalls called out, "WE WORK IN TOOLS!  DOES ANYONE NEED ANY KNIVES SHARPENED?"  And when Maid Marian needed a token for her beloved to keep near his heart, she offered a beetroot from the Camphill garden.  Jokes about Camphill community life made the play all the more hilarious to those of us who live here.  When Robin Hood proclaimed (in thick Brazillian accent) that the organic beetroot had saved his life, I nearly fell out of my seat with laughter!
Musical support for the play came from the always entertaining Bolivian Sunshine Dogs Band.  There were no dogs nor Bolivians in the band, but they did come in fancy dress and play a saw and spoons.  The live band really added a lot to the performance and provided bits of their own humor from the sidelines.
What panto would be complete without a man in drag?  Luke, a tall English coworker in frills and colorful beehive was Robin Hood's mother, Mother Hood (groan!).  He led the "boys and girls" in our cheers and boos, and tricked the Sheriff of Nottingham into marriage.  More than once, he had to be reminded of his lines by a resident!  The resident who played the Sheriff had clearly seen many pantomimes in his life, and I could tell by the way he struggled to keep a straight face that he really enjoyed being the baddy. Residents in the audience also enjoyed booing him without being told off!
While my first British pantomime might not have been flawless, I found it charming and representative of the creative things that our residents can do.