Last year, we had our own British Christmas complete with crackers, wassail, and Christmas pudding. I was so excited! I schemed, planned, and surfed the net for the just the right combo of food and fun. But alas, the wassail was ho-hum, no one was interested in the games after too much turkey and pumpkin pie, and no matter how much brandy I threw on that cake, I couldn't get it to flame. Perhaps unwittingly I doomed the whole thing by failing to observe some traditions well know to the Brits, but still a mystery to many Americans, like me. So, as I observe one of my special Christmas traditions, watching Miracle on 34th Street (was there ever a Santa like Edmund Gwenn?), I'm contemplating some new traditions and understanding others a little better.
WASSAILERS
We sing "Here We Go a Wassailing" every year along with all the other Christmas carols. It has something to do with a hot spiced punch, but we give it little thought beyond that. The term wassail comes from the "Anglo-Saxon phrase 'waes hael', which means good health". Wassailers are groups of laborers who would travel from orchard to orchard wassailing the trees driving away evil spirits, ensuring good fortune, and a bountiful apple crop in the new year. Parts of Somerset, Dorset, and Devon still go a wassailing and are rewarded with money and Lamb's Wool, one of the traditional drinks of the wassail made with cider or ale and roasted apples.
LAMBS WOOL (Robert Herrick 1648)

Next crown a bowl full
With gentle lamb's wool :
Add sugar, nutmeg, and ginger,
With store of ale too ;
And thus ye must do
To make the wassail a swinger.
JESSE TREES
I've heard of Chestnut trees and Partridge in a Pear trees, but I've never heard of Jesse trees. Historically, the first Jesse trees were large carvings, tapestries, or stained glass in churches to teach people who couldn't read the Bible the story of creation through the Christmas story Today, the Jesse Tree is a type of Advent calendar. A special decoration or ornament depicting a story from the Bible is hung on a banner or small tree each day throughout Advent or sometimes on the four Sundays of Advent.
.
DUMB CAKE
History is full of unusual traditions, like the Dumb Cake. Today we have Match.com and E=Harmony, but women once chose their intended with rituals like the one from St. Faith's Eve where a dumb cake ritual inspired the choice of one's truelove. Since Saint Faith was baked on a griddle and beheaded, she's the natural choice for a saint to bring about matrimony, but I digress, So if you still haven't found that special someone, try baking a dumb cake on Christmas Eve. The cake is made and eaten in silence. Prick your initials on top and the doppelganger of your loved one comes in at midnight and puts hs initials next to yours. For a dreaming cake, put a piece under your pillow, messy, and you'll have visions of your future spouse.
Dumb Cake
One and one-half pounds flour, one and one-half pounds sugar, one-half pound butter, two cups milk, four teaspoonfuls baking powder, ten eggs and two gills brandy and a little pulverized mace. Mix as any cake and bake in a flat pan. Now cut off two cornes to make it a triangle; ice top and sides with icing; outline nuts and garnish the lower edge with English walnuts and autumn leaves.Christingle:
CHRISTINGLES
Christingles are used in Christingle services which come from a Moravian custom of distributing lighted candles to children on Christmas Eve, a recognition of Chriust, the light of the world. Christingle services can be held for Advent, Christmas, or Epiphany. The Christingle is a representational symbol:
An Orange, which represents the World that God made.
A Red Ribbon tied around the Orange, representing the Blood of Christ
A Lighted Candle representing Jesus Christ, shining in the world today
Four cocktail sticks, representing the four seasons
And some dried fruit, nuts and sweets representing God's gifts to the world.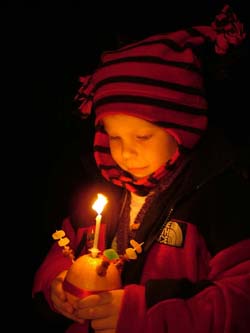 I thought I was such a good Anglophile, but these customs are new to me. Along with baking sugar cookies, wrapping presents, and writing Christmas cards, I now have to find some wassailers, make a Jesse tree, bake a dumb cake for (even though I'm happily married) buy some oranges, and candles. Apparently, I have a lot to learn. Stay tuned for Part 2 as I explore more unique Christmas traditions and customs.