In everyone's favorite Christmas classic, A Christmas Carol, Charles Dickens writes, "I will honour Christmas in my heart, and try to keep it all the year." We each celebrate and honor Christmas in our own way and with our own traditions. Brits celebrate Christmas with traditions like Mumming, Morris Dancing, and Pantos. I'd never heard of any of these celebrations until I began researching British Christmas traditions. Americans love to shop, eat, party, decorate, and carol, but we might be missing something. We could add some joy and merriment to our own celebrations with some of these fun British Christmas traditions.
Morris Dancing
In town squares, village greens, and neighborhood pubs men dance with large bunches of bells around their legs,  jumping up and down and back and forth while beating out a rhythm with sticks and making an occasional jubilant outburst. Sometimes, the dance includes swords. The dance is similar to my elementary school days of recess square dancing, though we weren't allowed to take swords out to recess or to hit each other with sticks.
Morris Dancing is most often seen on Christmas Eve or Boxing Day, which we call the 'day after Christmas'. (It's a day for those intrepid souls to scoop up all the post Christmas sales and "box" their way to great sales.) Morris Dancing is an old tradition dating from the time of King Henry VII as a courtly entertainment and is popular at Christmas, the Feast of the Epiphany, and Spring and Summer festivals.
I think this quote explains it best:
"Most of all, though, Morris Dancing is an ineradicable part of the English pastoral scene. Taking its place among real ale, village greens, the resurgence of cricket and warm summer days, it evokes a merry England far removed from troubled urban reality. An icon of England then, but also unashamedly an icon of fun."
Looks like good fun to me!
Mumming
Hmmm? This one is a puzzle. Let me guess. People run around pinning mums on each other? Brits dress up like mummies and sing carols? Actually, actors known as mummers or guisers, also known locally as rhymers, pace-eggers, soulers, tipteerers, galoshins, guysers, (these names just tickle me, I like pace-eggers) perform seasonal folk plays.
 "Although usually broadly comic performances, the plays seem to be based on underlying themes of duality and resurrection and generally involve a battle between two or more characters, perhaps representing good against evil. Usually they feature a doctor who has a magic potion which is able to resuscitate a slain character."
The tradition may go back to Roman times when people dressed in costumes for parties at New Years. Related Mummers plays include The Derby Tup, The Old Horse, and The Papa Stour Sword Dance. Mumming, if that isn't an odd enough name, is called Mumping in Warwickshire, Thomasing and Corning' in Kent. More great names. I like Mumping!
Yule logs
A large and very hard single log burns for 12 hours on Christmas Eve and is allowed to smolder for 12 days of Christmas. Luck is ensured if the log is not allowed to go out. Most Brits recognize this tradition, associated with the Twelve Days of Christmas, with a rich cake of cream and chocolate. Imagine the luck that will fall on you if you can delay consumption of that rich decadent delight for 12 days.
Contributing to my fascination of silly and unusual words, the yule log has many names:
North-east of England it was commonly called a Yule Clog
Midlands and West Country, Yule Block
Lincolnshire, Gule Block
Cornwall, Stock of the Mock
Wales, the log was often referred to as Y Bloccyn Gwylian, meaning  the Festival Block
Scotland, Yeel Carline, the Christmas Old Wife (must be a story there)
Ireland, the term, Bloc na Nollaig, which meant the Christmas Block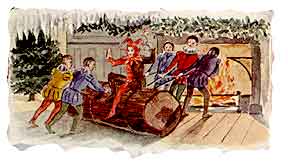 Since Santa would be burned up in the yule log continuous flame, I'll do my part and eat the chocolate version of the yule log. As if I need an excuse to eat chocolate cake.
Panto
"Between the start of December and the middle of January, professional actors and serious productions across the nation make way for pantos: part vaudeville, part children's play, part cabaret. The plots are absurd, the dialogue a bizarre mix of bad puns and risqué asides, the acting dreadful and the costumes comical."
This another activity we might embrace. It's ironic that Brits, with their stereotypical stiff upper lip, should enjoy such frivolity, but that's what I love about y'all!
Happy Christmas! I hope you enjoy your holiday celebrations, however you choose to celebrate them. I can only hope a bit of  your freewheeling, zany British Christmas traditions will catch on here. Now, if someone can just explain frumenty to me?